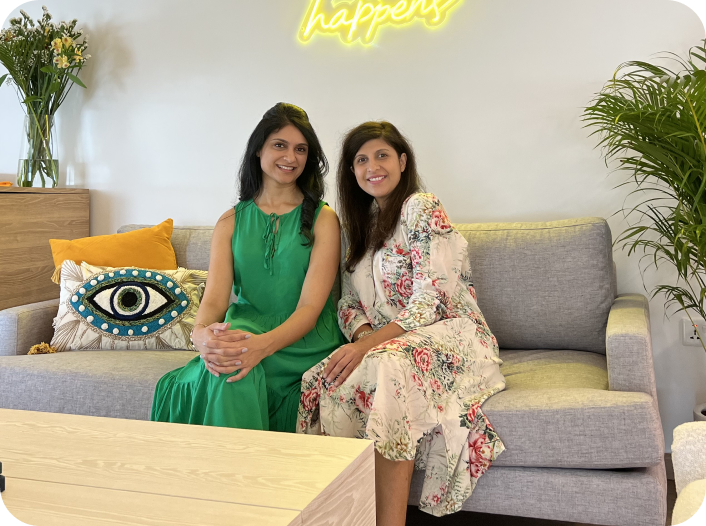 Prana House is a wellness center co-founded by two friends that crossed paths through their own personal journeys in holistic healing and wellness. Both partners are qualified Reiki Masters and are also individually qualified in different therapeutic modalities. Their passion for wellness gave birth to Prana House; a wellness centre that believes in community and connection and aims to support and encourage experts, practitioners and instructors.
Prana House would love to be a part of your growth journey! We invite you to come explore, experience and evolve with us.
Our logo has been carefully designed and is a representation of who we are. The blooming Prana flower is the alphabet P which spreads out to make 4 petals which form a pneumonic to represent community and collective growth. The center holds a diamond which is a symbol of purity, wholeness and abundance. The diamond is an energy amplifier that aids spiritual evolution and reminds us of our soul's purpose.  
The Prana House colours are yellow and grey; Yellow is often associated with the solar plexus chakra. The solar plex chakra is all about connecting with your core identity and feeling comfortable and confident with who you are, your most authentic self. (It is the center for self-expression and where you energetically go to exert your personal power. It's all about confidence, manifesting, creativity and being comfortable in one's skin.) Grey represents neutrality and balance the shade between white and black. When brought together the two colours represent Prana House as a space for people to come to, to discover and uncover their true self and live a more balanced and wholesome life.
Want to chat with a human? Drop us a line to get in touch. We're here to help.
Visit us at 312 Apex Atrium, Motor City, Dubai, UAE. There is plenty of free parking available behind the building.
At Prana House, our topmost priority is to bring the holistic wellness community together. If you want to partner with us or are looking for some more information on any of our offerings, pop into our center at Motor City, check out our socials or drop us a line at hello@pranahouse.me.

A wellness centre that believes in community and connection. Supporting experts, practitioners and instructors by providing a tranquil space with a plug and play model.
You can focus on your craft and clients, without having to worry about anything else.